Our Story
Our Story
Manuel and Lindsey met through mutual friends, Alejandro and Emily Monarez. Their first date was scheduled for April 22nd, 2018, but because Alejandro and Emily were moving to Colorado the next week, Manuel and Lindsey inadvertently met the night before for the going away party, and immediately hit it off.
They still had their official first date on the 22nd, and the rest is history as they knew the connection was something special that first night. Realizing both of their favorite movies were Dumb and Dumber was a highlight of the evening, with so many laughs and quoted scenes (We Landed on the Moon!). As the relationship blossomed, they were taking trips, spending every possible moment together, and Manuel even moved into the same building (across the hall!) to be closer to Lindsey.
Fast forward six months into dating, Manuel proposed to Lindsey on the first day in Iceland at Gullfoss waterfall. Photos of the proposal can be seen on the photos page on this website.

As of recent, Lindsey and Manuel moved in together within the same building as they were previously residing. The new address is:
5310 W 16th St., Apt. 608, St. Louis Park, MN 55416
The Wedding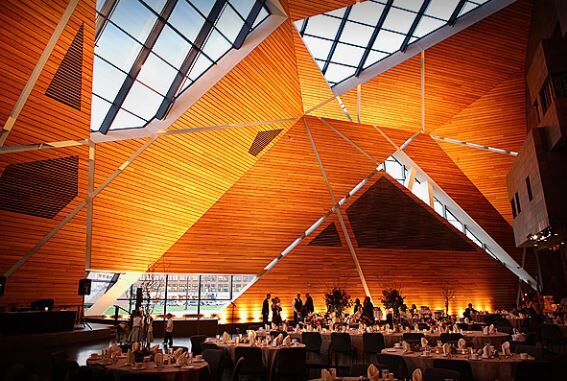 Saturday, September 28, 2019
4:30 PM
Ceremony
St Stephen's Episcopal Church
4439, West 50th Street, Edina, MN 55424, United States
Reception
McNamara Alumni Center
200, Southeast Oak Street, Minneapolis, MN 55455, United States
We are so excited to be planning our big day and having you join us on this wonderful journey!
Please note the church does not have a parking lot, but there are two parking lots across the street in park areas. You are ok to park there or on the street. For the reception, we have reserved 50 spots in the connecting ramp. Event rate of $10 will be active, and prepay is required at time of entry.
Wedding Party
Elizabeth Casey - Matron of Honor
Elizabeth is Lindsey's older sister by 3.5 years, and is her only sibling. They had a true case of "sibling rivalry" through most years of growing up, but grew out of that years ago and Lindsey considers Elizabeth one of her best friends. They share the same love of going to concerts, cheering for the Badgers and dancing to early 90's hip hop. Elizabeth has always been one of Lindsey's strongest supports during hard times, providing solid, practical advice. Knowing Lindsey so well, her opinion mattered greatly on who to date and who to marry. Manuel won. :-) Lindsey was fortunate to be Elizabeth's Maid of Honor 17 years ago.
Elizabeth is an incredible photographer, and was kind enough to take Lindsey and Manuel's engagement photos and create the Save the Date cards.
Elizabeth has a husband, Chris, and two boys, Andrew (Lindsey's Godson) and Gavin, all of whom are in the wedding. They reside in Lakeville, MN.
Katie Imholte - Bridesmaid
Anyone who knows Katie and Lindsey, knows it makes perfect sense that they met at a networking event. Ever since that meeting 9 years ago they have been the best of friends, going on adventures together (Peru!), being there for each other during ups and downs, and being a forever laughing companion. Katie constantly inspires Lindsey with her non-stop work ethic, involvement in non-profits and mastering any hobby she decides to try. Lindsey was in Katie's wedding two years ago.
Katie and her husband, Erich, reside in St. Louis Park (nice and close to Lindsey and Manuel)!
Angela Eifert - Bridesmaid
Angela and Lindsey have been friends for nearly 14 years, having worked at two jobs together and navigating life's crazy rollercoaster with one another. They both consider their bond to be like sisters. Whether she knows it or not, she's been a guiding force in Lindsey's life, providing opportunities and widening her scope of what's possible. She is the ultimate connector and instantly gets to the core of anyone she meets. She is such an inspiration to Lindsey!
Angela and her husband, Josh, have two kids, Reese (Lindsey's Goddaughter) and Nolan. They reside in Savage, MN.
Jane Moen - Bridesmaid
Besides Lindsey's sister, Jane is one of Lindsey's longest-term friends, having met as neighbors in college. They have been through just about everything together, and share a love for travel, girl time and pedicures. Jane is one of the smartest and wittiest women Lindsey knows, and is not surprisingly the President of a large healthcare company (friend bragging moment).
Jane currently resides in Chicago, IL.
Lauralee Walker - Bridesmaid
So many laughs, so much fun. Lauralee and Lindsey have been friends for about 14 years after meeting at a previous job, and there has never been a dull moment! They both share the same love for laughing, adventure and soul searching. Lauralee has an incredible soul, is beyond humble and is always looking for the good in others. She is naturally teaching Lindsey lessons all the time.
Lauralee and her fiance, Brian, just welcomed a baby girl, Victoria, and will be getting married in Israel a week before Lindsey and Manuel!

Chey Eisenman - Bridesmaid
Everything is memorable with Chey. Another friend met through networking, she is a long-time friend of Lindsey's and even their first meeting turned into telling a large business crowd Lindsey's "type" over a microphone about 13 years ago. Embarrassing yet memorable, Lindsey knew Chey would be a forever friend from that moment. She is also the first friend to officially meet Manuel, to which Lindsey received her blessing immediately. She is one of a kind, incredibly thoughtful and the best person to have in your corner.
Chey lives in St. Paul and is excited to be a new cat mom soon.
Juan Manuel Chavez - Best Man
Juan is Manuel's father and is honored to be able to stand next to his son on his big day. One way to describe the relationship between the two - it's stronger than ever! He is the person who has been there for Manuel through all the highs and lows of his life, and has never shied away from providing love and support when needed the most.
Juan and his wife, Cynthia, have been married for 36 years and also have a daughter, Christina, who resides in Omaha. He has been an entrepreneur for over 25 years, loves soccer, and is the youngest of 14 children!
Jake Mancuso - Groomsman
Manuel and Jake go all the way back to when they were babies. Manuel's mother and Jake's mother have been best friends since high school, and because of that, Manuel and Jake spent time together on a regular basis. They would spend holidays together, play on the same baseball team, and eventually attended the same high school. More recently, Manuel had the honor of being a groomsman in Jake's wedding. To this day, Manuel considers Jake his brother and will always be part of his family.
Jake currently resides in Omaha, Nebraska where he is employed at TD Ameritrade and is married to his loving and caring wife, Amanda.
Alejandro "Alex" Monarez - Groomsman
Manuel and Alejandro have known each since their first years in law school and continue to be strong friends to this day. In fact, Manuel had the honor of being one of Alejandro's groomsmen at his wedding in 2017. It was Alejandro and his wife, Emily, who introduced Manuel to Lindsey (and vice versa).
Alejandro and his wife currently live in Denver, Colorado.
Donny Rowe III - Groomsman
Manuel and Donnie have known each other since 4th grade and continue to maintain a strong friendship despite living in different states. When an opportunity arises, neither of them are afraid to boast about their favorite respective soccer teams, Manchester United and Chelsea.
Donnie currently resides in Omaha with his wife, Anna, and three children, Haleigh, Parker, and Chelsea.
Chris Falteisek - Groomsman
Manuel and Chris have known each since their first years in law school and have remained close friends since. During their time in law school, Manuel and Chris played baseball together, attended the Nebraska-Penn State game at Memorial Stadium, and golfed together on multiple occasions.
Today, Chris and his wife, Stacey, live in Burnsville and have a beautiful dog named Barley.
Reese Eifert - Flower Girl
Reese is Angela and Josh Eifert's daughter, and Lindsey's Goddaughter. She is such a sweetheart and an absolute light on this earth. Lindsey and Manuel cannot wait to have her participate in the wedding and Reese is very excited to be a princess!
Griffey Chavez - Ring Bearer
Manuel's trusty companion for almost 14 years. The picture doesn't say enough to describe this lovable, gentle, nearly-15 year old German Shepherd mix who was happy to welcome Lindsey as his new mom. He always wants to put a smile on your face and will never turn down a good petting.